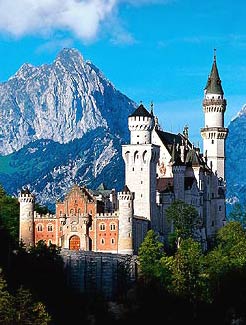 The Art of Travel Photography
is 80% off with our
The Great Courses coupon
.
I have always, always, always wanted to go to Bavaria. It just seems like it would be such a great place to visit. All the scenery, the rolling hills, the food ...
But most of all, I really want to go for one reason.
Neuschwanstein Castle.
I was at work one day and we were looking up places for my friend to go on her honeymoon. I'm not entirely sure how we even fell upon this place, but there it was. I couldn't believe it. A castle in the clouds.
The castle is a nineteenth-century Romanesque Revival palace. It is in the village of Hohenschwangau in southwest Bavaria. It was completed just 6 weeks after the death of King Ludwig II in 1886. The rumor has it that the king wanted it to escape from public life. Ironically, 1.4 million people visit the castle yearly. Apparently, the king wanted to rebuild the Hohenschwangau castle. The other rumor is Cinderella's Castle is based on Neuschwanstein.
I'm no Disney fan, but I am a fan of this castle.
I'm not sure how or when I will get there, but I will. Once I do, I am going to want to take pictures that will last me a lifetime.
That's what is so great about this travel series by The Great Courses. It teaches you something that we can all use -- how to make our travel memories last a lifetime.
I want to get the full scope of the castle in my camera view finder. I want to know how to capture the light against the mountain. I want to see the clouds float in the sky.
Try the course out today and ensure your photos are fantastic.
To learn more about the series go to
http://www.greatcourses.livejournal.com
.